This is a 90 percent solar window screen installation.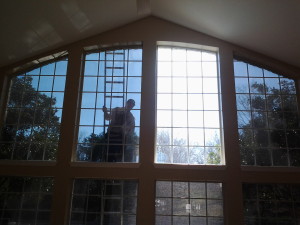 I know it doesn't look like it's a 90 percent fabric, but it is. By looking at these pictures you have the sun shining straight onto the fabric, so the fabric doesn't quite look like the 90 percent fabric, but it is.
You have two levels of windows shown here. You have the windows on the bottom, and then you have the windows on the top.
The windows on the bottom are windows that open.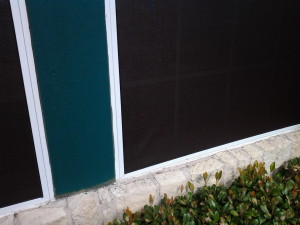 These windows allow for a pop‑in solar screen installation method, meaning the windows are made to hold full‑size solar screens. Therefore, we spring load the screens at the top of the screen, so that the screens fit into a lip provision at the top of the window and a lip provision at the bottom.
Read more about our Solar Screen Installation Techniques here.
The arched windows above, those four arched windows, those windows are non‑opening windows.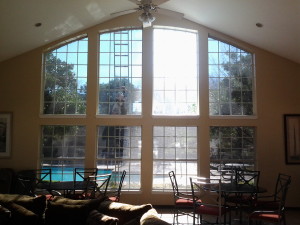 Those windows require us to screw the screens onto the channeling going around the window. These pictures here are bright, because they show you what it looks like, looking from the inside out. You can see here by looking at these pictures that some of the windows…Or, I should say all of the windows are covered with the 90 percent fabric, except for that one window.
That one window is just blasting in. The sun is just blasting through that window.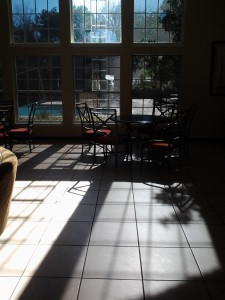 Look at this picture here that shows on the floor, on the tile floor, the area that has been shaded from the 90 percent solar screen, and in the area that is not shaded, that's getting the full‑on direct sun. Look at this difference. It is a huge discernible difference.